The front bedroom/study is the biggest bedroom other than the master bedroom. This will be MINE!! The library and movie collection will go in the other two extra rooms. This will be for using and building computers, although I will put a reclining chair and a bookcase in there as well. I can read while playing my music. My retreat!
This is what I have now. Only a taste of what is to come but still better than what I had. The two computers shown are networked through a firewall router. The laptop can also be connected. It sits on a table to the left. The computers share the printer and they use the same monitor and keyboard through a KVM switch. I use a separate mouse for each. To the left of the black computer is a VCR and a VCR/DVD recorder combo. I can record video into the computer or play it out through a VCR. I can do the same with audio cassettes once I hook up the rest of my equipment at the new house. The black computer has 1.16 TB of storage plus external drives. The gray computer has 450 GB plus external drives. I currently have almost a TB of external drive capacity.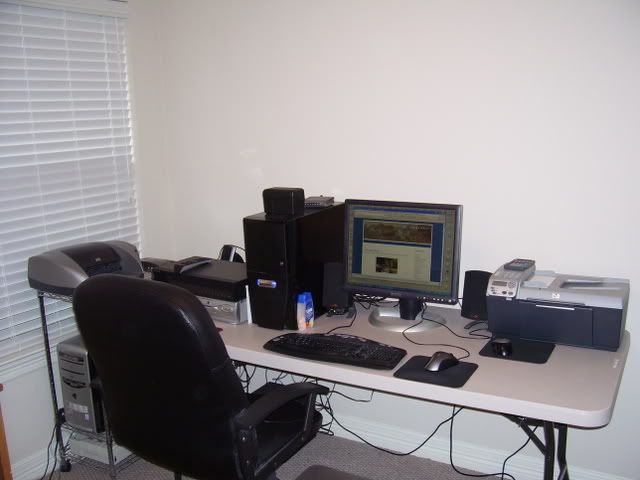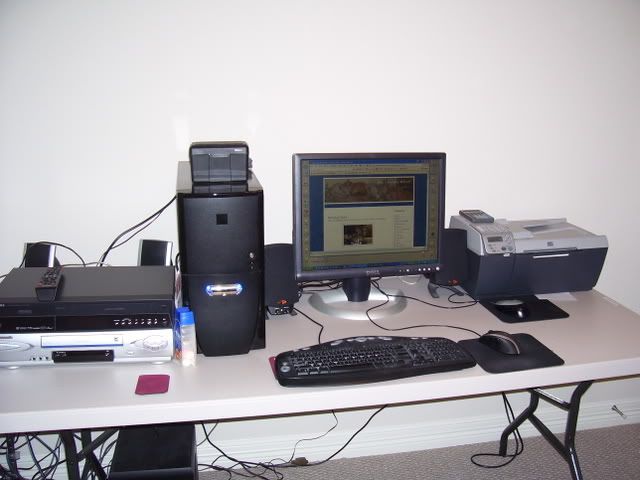 In California I had to fit most of my books, my office, and my computer setup into one smaller room. I know it's better than some had but I really wanted more space. To build the computer in the black case I had to set up a folding table in front of the bookcases.